Event: The 16th annual men's Op Pro Surfing Championship is the first contest in the 1997 G-Shock Triple Crown of Surfing. It is a 3-star World Qualifying Series (WQS) event sanctioned by the Association of Surfing Professionals (ASP).

Where: Alii Beach Park, Haleiwa.

When: Holding period - November 12 through November 23, 1997. Competition will require four full days and be held on the days the surf is biggest and best as determined by the contest director. Daily start time 8 am.

For announcements about contest progress and wave conditions listen to Surf News Network at 808-596-7873, or check the sports section in the daily newspapers.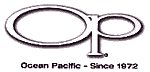 Who: Sponsored by: Ocean Pacific Apparel, Corp.

Produced by: Triple Crown, Inc.,
Executive Director: Randy Rarick
Contest Director: Bernie Baker
Media Director: Carol Hogan/Ocean Promotion
1996 Winner: Kaipo Jaquias, Hawai`i won the first men's OP Pro held in Hawai`i.
Prize Money: $60,000.
Surfers: 132 men will compete.
Awards: An awards ceremony will be held on-stage at Alii Beach Park immediately following the finals. A press conference will be held on-site immediately following the awards.
Press Facility: The press facility will be open at Alii Beach Park on surfing days from 8:00 a.m. to the end of each day's competition.
Note: All telephone numbers are effective starting 11/12/97. Hotline: 808-637-6376.
Internet: Pre-contest information is available on the Internet. Results of the Op Pro men's division will be posted at the following locations:
http://holoholo.org/triplecrown/
http://www.oppro.com/
Ocean Pacific: Contact Lisa Lavern at Ocean Pacific Apparel, Corp.
3 Studebaker Road, Irvine, Calif. 92618
Phone: 714-580-1888 ~ Fax: 714-580-1866.
Carol Hogan:Ocean Promotion
731241 Melomelo Street
Kailua-Kona, HI 96740
Phone & Fax: 808/325-7400