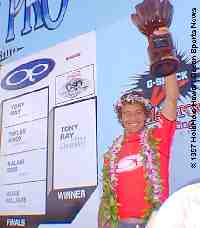 Hale`iwa, HI (November 22, 1997)-- Renowned Australian big wave rider Tony Ray, 32, broke a five year drought when he won first place in the men's division of the OP Pro Surfing Championship at Haleiwa's Ali`i Beach Park on Oahu.
The OP Pro is the first contest in the 1997 G-Shock Triple Crown of Surfing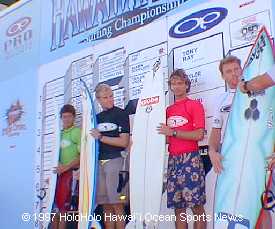 The final four-man heat was held in stormy six foot conditions and Ray clearly dominated the entire 35-minute heat from start to finish. No longer a seeded surfer, Ray had to work his way through the early trial rounds of the contest and he did so with elan, surfing through to the finals and winning every heat he entered.

A former ASP Top 44 competitor now largely retired from professional competition, Ray's world class form came to life as he waited patiently way out to sea for the biggest set waves of the day. Early on he mentally marked the spot where he thought the waves were best, and while his opponents -- Kalani Robb (Haw), Taylor Knox (Calif), and Ross Williams (Haw) -- hassled it out among themselves on the inside section of the take-off zone, Ray was a lone figure out the back as he waited patiently for Mother Nature to turn on for him.
After opening the scores with a solid set wave which earned him 7.50 points, Ray went on to build a steady lead -- at one point leaving his rivals in need of more than 14 points to catch him. By the close of the 35 minute final, Ray had 27.90 points out of a maximum 40 and was assured of the $6,000 first place prize. Robb' heat score was 24.94 and he got $3,000; Knox, 22.67, $2,500 and Williams, 13.50, $2,100.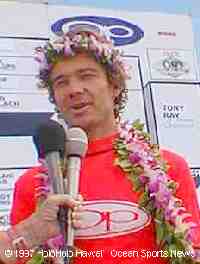 "The Hale`iwa line-up is really tricky but I had a little line-up spot that I used," said Ray. "I just sat there and I always ended up away from the other guys which is nice, because I don't like hassling. I really concentrated on holding my position and being where I wanted to be. I was looking for the biggest and best waves and then tried to surf them as well as I could.
"That's my first final since the French Lacanau Pro in 1992, which I won, too," Ray said. "To make a final again and win is incredible. It's hard to get all the way to the final but once you're there it's just so good to win it. I felt just as strong at the end as I did in the beginning.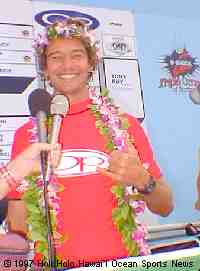 "I had a good feeling that I was in the lead and then I saw the other guys get a couple of good waves at the end and I knew they were catching up," said Ray, who has competed in every Hawaiian Triple Crown of Surfing since the winter of 1983/84 . "But I just sat out there and stuck to my game plan and it worked out well. When you get a good wave at Haleiwa you can't help but rip it because it just opens up so nicely. It's a really good wave. I love surfing here."

Kalani Robb posted an 8.17 on his fourth wave, the highest single wave score of the final, which he tore apart from the outside take-off to the inside 'bowl'.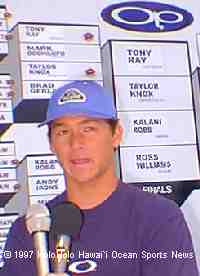 "I lost because I wasn't riding a 7'6" with big channel bottoms and I didn't paddle out the back by the Hale`iwa buoy and take off like Tony Ray did," joked Robb, 20, after the final.
"I figured I was going to come back after scoring that eight pointer," Robb said. "Then I got a big set wave and it looked good but I was riding my small board and it was too big of a wave for that board. I wanted to hit the lip but it looked bigger than I wanted it to be on that board and I thought if I did hit it I would break my board. But I tried it anyway and I fell.




"I'm not really bummed out. I got a second and that counts well toward the Triple Crown Championship. That's what I'm aiming for. Last year I was pretty close so hopefully I'll come closer this year."
(Editor's note: What's to be "bummed" about?
From the looks of things here, coming in 2nd couldn't be all that bad ;)
Robb also has competed in and enthusiastically supports the NSSA / Hawai`i , which is organized by his parents, Linda & Richard Robb.

Californian Taylor Knox placed third overall, despite entering the final as a favorite after excellent performances in the quarter and semi-finals.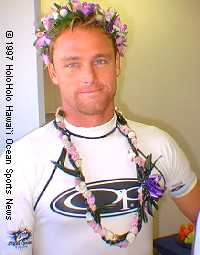 "The final was really frustrating for me," said Knox, 25. "I was feeling really good with my surfing, I had a great wave in the beginning, but I fell on my second maneuver which I think would have been a really good score. I was just trying to hit the lip as hard as I could but I think I tried to hit it too hard. Those things will happen. It was the final, I think I was trying to push it maybe a little bit too hard.
"I've got a head start on the Triple Crown ratings and I'm looking forward to Sunset and Pipe and then I'll just walk away with a smile."

The second jewel of the G-Shock Triple Crown of Surfing resumes on Monday, November 24 at Sunset Beach with the opening of the holding period for both the Rip Curl World Cup of Surfing presented by Zeal Optics and the Quiksilver Roxy Pro.
PLEASE NOTE: New telephone numbers for the next contest is the Rip Curl World Cup of Surfing presented by Zeal Optics. The press trailer phone number is: 808-638-5533. The fax number is: 808-638-5008.
HOTLINE: 638-5024
For more information:
Carol Hogan or Jodi Holmes
Lava.Net/GTE Wireless - Ali`i Beach Media Center
808.637.4771 Fax: 808-637-1759.
Check out the official Triple Crown website at:
http://holoholo.org/triplecrown/