HoloHolo Hawai`i Ocean Sports News
Presents
BANKOH NA WAHINE O KE KAI 2000

---
Provisional Results
Last Updated Sunday 24Sep00 1609 HST
RACE START 0728 HST
STAY TUNED FOR MORE PIX FROM THE BEACH!
Kailua Kona's Kai `Opua Canoe Club Takes It!!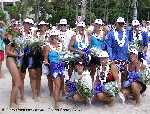 SEE: Official Results -|- MORE Finish Line Pix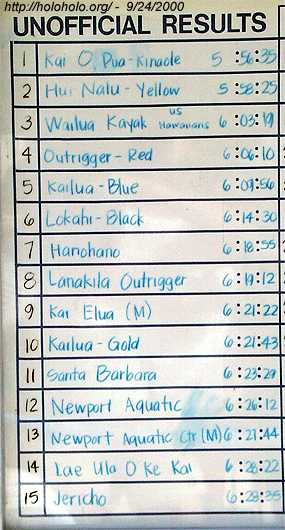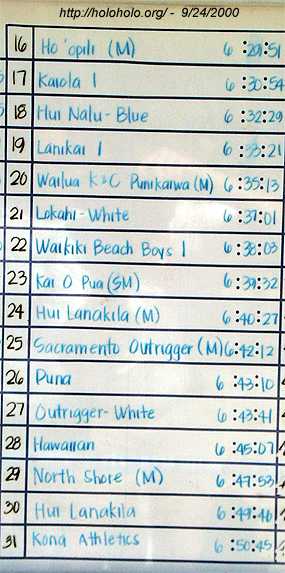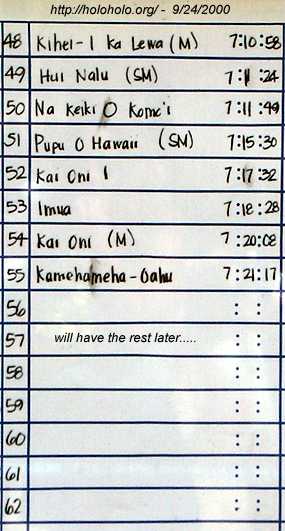 Some of The PreRace News stories available so far.... (Race Day News)
Mother, daughter combo thrives on paddling
SEE: story by By Jason Genegabus at The Star Bulletin
Patty and Jessie Eames have developed a unique relationship
due to their outrigger canoe experiences with the Kai Opua Canoe Club
Wailua Kayak & Canoe's "Crew for a day" looks to defend their title
by Dayton Morinaga at: The Advertiser
and check out Pacific Paddler Mag's 99 Race Wrapup
along with '99 Race Results and some Commentary from Maui Time Mag
---
This site will be linking to all available online resources for the 2 Moloka`i Races,
so if you have items of interest, please Email...
Also see: Official 2000 Pre-race info
1999 Race Info -|- 1998 Race Info -|- 1997 Race Info -|- 1996 Race Info -|- 1995 Race Info
See: Moloka`i Hoe Race
Mens World Championship Outrigger Canoe Race

SEE: Latest NOAA weather reports courtesy of UH SOEST
Hele On To Hawai`i Canoe Club News
Last Modified: 20000929.1439 HST Friday
Copyright © 1995-2000 HoloHolo Internet Publishing, all rights reserved.