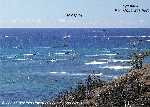 rounding Diamond Head from the mauka side...
and we're RIGHT ON TIME, just as the front end of the fleet,
accompanied by Mike DeRego's Maggie Joe,
passes by the 100 year old Diamond Head Lighthouse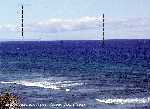 this shot gives you some idea of why it's nearly impossible
(with present means anyway) to track position on the majority of the fleet
the arrows show the next 4 canoes after the 2 front-runners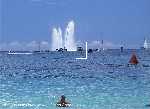 and just as fast as yer intrepid Paparazzi can get his butt
from Diamond Head to Duke Kahanamoku Beach
we get a shot of Kai `Opua (in the white box) after having made the final right-turn to the line
this one also shows just what a battle of a race it was,
as you can see Hui Nalu just rounding the orange marker buoy,
there to the left of the geyser from the fireboat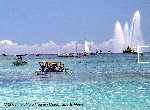 Kai `Opua crossing the line at 5:56:45, on a pace of 08:44 to the mile
some 32 minutes off the course record set in '95 by Offshore CC
Hui Nalu just under 2 minutes behind them (there in the white box)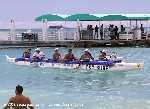 "We were literally neck-and-neck the whole way", said Kai O Pua's Dondi Dawson,
who co-steered with Jackie Taylor. "Hui Nalu was with us the whole way"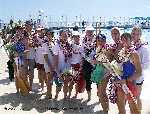 with Wailua Kayak & Canoe in 3rd, just under 3 minutes in front of them
Honolulu's Outrigger Canoe Club, always a contender in these races, was 4th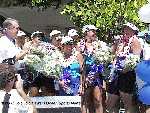 during a brief photo-op session, the Kai `Opua Crew mentions
they've been working for about 10 years for this moment
and it was particularly sweet for a Mother/Daughter combo, who along with
the rest of the crew, found the "Kona weather" conditions were just purrfect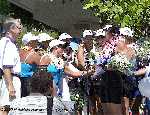 The Crew Cheer!!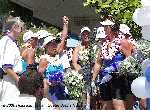 and this one about sez it all.....

Hui Nalu's 2nd place showing wasnt what they'd hoped for,
having had the lead on several stretches, the conditions just werent what they needed...
"Our crew does well in the surf , so we were hoping for more swells,"
said Hui Nalu steerswoman Kaui Pelekane. "You had to muscle just to get all the small bumps
and they were out-muscling us at the end."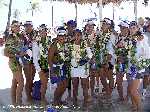 Wailua Kayak & Canoe, a "crew for a day" with paddlers from
Maui, Kaua`i, the Big Island, California, Wisconsin, New Zealand and Tahiti...
and while they pulled a rabbit out the hat last year ('99) they'll admit that...
"It would be nice to get in one day of practice," said crew member Mary Brewer.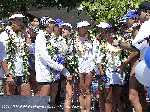 and how long have you wahines been paddling together???
"....about 6 hours..." was the reply....
just imagine what would happen if they had a whole day to practice together, eh?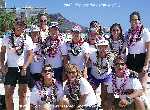 San Diego's Kai Elua Canoe Club was First in the Masters Division
and we felt obliged to show em just how to position themselves
for snapping pix here at Duke Kahanamoku Beach ;)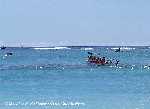 Hilo's Kamehameha CC was the first and, somewhat sadly, the only Koa canoe in the race...
apparently these beauties are just too damn scarce/valuable to race much anymore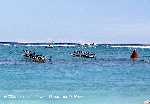 in one of the closer neck-n-neck-to-the-finish-line battles,
here we have a Hui Nalu crew edging Dana Point (eye think it is)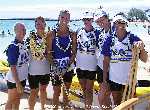 one of the Newport Aquatic Center crews...
pauses for a pose in front of their very nice Outrigger Connection canoe...
there was a Masters crew in there too, so not sure which one
but these ladies dont look "experienced" enuf (to be in the over-35 category ;)
uhhhh.... I mean..... like..... they're too young, right ???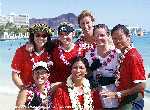 and here we have one of yers truly's fave crews,
Waikiki Yacht Club's Canoe Team Open Crew 1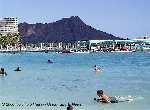 and HEY! - look who's just pulled in......
paddling WYC's Kaholonai`a, with the fire-orange-painted ama....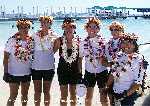 another one of our faves....
it's Waikiki Yacht Club's Canoe Team Sr Masters Crew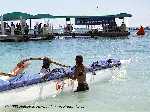 has this beauty got nice lines, or what?? (that's the CANOE, we're referring to here ;)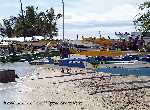 as the Wahine action on The Channel winds-down for another year,
we see that the rush-hour traffic over here at "Wa`a Grand-Central Station" has begun
with less than 2 weeks and counting to get em all fixed up/packed up
and back over to Hale O Lono for the launch of Moloka`i Hoe 2000
the Mens World Championship Outrigger Canoe Race...
stay tuned.. a hui hou!!
This site will be linking to all available online resources for the 2 Moloka`i Races,
so if you have items of interest, please Email...