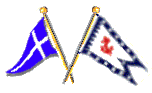 Gone With The Wind (14th in)
Arriving Diamond Head Light at
21:41:04 HST Sunday July 11, 1999
With elapsed time of:



Prev Arrival ~ Next Arrival ~ More Arrivals ~ Latest News ~ More News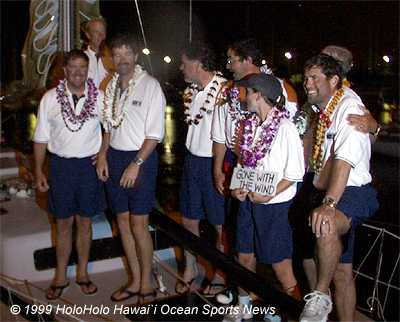 well.... we got somebody gone with the wind here - or what?

so... we finally get the whole Gone With The Wind Crew
and The Paparazzi (by this time perty much gone with the Mai Tais)
fergits the FLASH!!! (Photoshop to the rescue - sorta ;)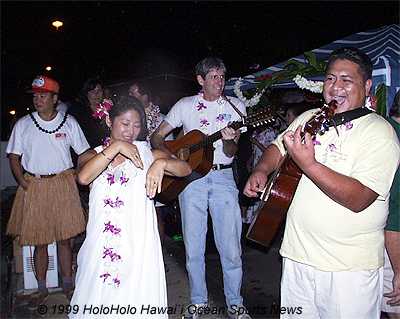 meanwhile.. The TransPac Hula Halau & String Quartet fires-up ashore
from the left (looking just so.. in that grass skirt there ;) we have
Waikiki YC's Robert & Cyd Asakura - that's Cyd doing the hula...
with guitar strummin by John & Sepha, who also works the WYC bar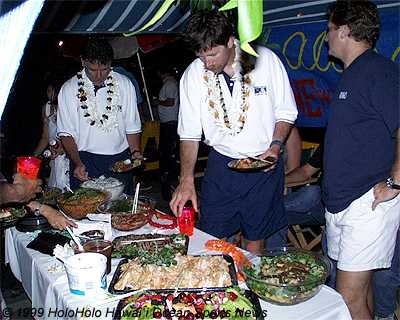 The Spread, hosted by Waikiki YC's Vanessa & Michael Roth (scroll down for him)
with some very fine food provided by Indigo Eurasian Cuisine

Cyd looking very nice as the 'sacrificial maiden' here...

and there's more WYC people - Tim there on the left
and signifiying this as an Official YC Event, we got Tall Mary on hand
representing the WYC Blond Squad, along with Marcia &
Richard "don't call me" Heller there in the back (with the chop sticks ;)

VERY tasty stuff, this Indigo Eurasian Cuisine was...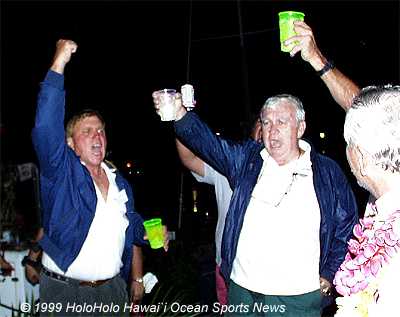 Ed Lott, Jim Markey & Co do a rousing rendition of Banzai !!!
dunno what this was all about, but it was a great stoker for the crowd...

and even Scarlett O'Hara shows up!!

and here, looking very dignified on his way to the Mai Tai bucket
is our host, Mike Roth - shown here tastefully decked-out in the grass skirt...
and so went another serene evening at TransPac Row
tho it was almost dull, compared to the scene here last year -
and we didn't see nearly the body count as during Renegade & the Canadians arrival...
Next Arrival
ETA Logs ~ First to Finish ~ More Arrivals ~ Latest News ~ More News


HoloHolo Hawai`i Ocean Sports News
Last Modified: 19990712.2349 HST Monday
Copyright © 1999, and produced online by
HoloHolo Internet Publishing, all rights reserved