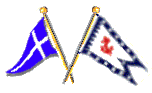 Great Scot (26th in)
Arriving Diamond Head Light at
13:22:51 HST Wednesday July 14, 1999
Great Scot WINS! Division 4



Prev Arrival ~ Next Arrival ~ More Arrivals ~ Latest News ~ More News

as you might've guessed, the lady in the pareo was REALLY glad to see em
come on, huh! - yer holding up the show....

the crew of Waikiki YC's Hagar The Horrible doing the greetings

the lady in the pareo lookin like she can't take much more of this
at least not without gittin lei'd herself... ;)

Oh.. GREAT!!, Scot...
now... how about a little ACTION here, HUH?!!

now THAT'S more like it!
The Great Scot Crew

LJ Edgecomb pressin the flesh here....

the bow b'decked with greenery and the show gets underway!

The Crew digs into The Spread, put up by Mike Welsh...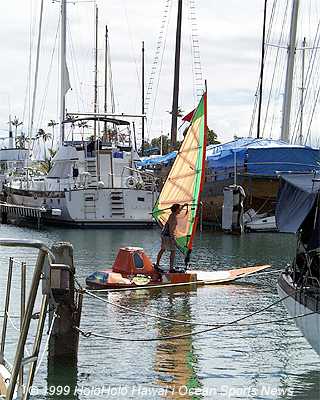 what the..... wwwhat IS that????
oh HEY!!... that's that guy who sailed a 'windsurfer' from Catalina to Maui
heard it took him 47 days to make it - kinda makes 15 days sound fast, eh ;)
Next Arrival
ETA Logs ~ First to Finish ~ More Arrivals ~ Latest News ~ More News


HoloHolo Hawai`i Ocean Sports News
Last Modified: 19990714.1509 HST Wednesday
Copyright © 1999, and produced online by
HoloHolo Internet Publishing, all rights reserved