Uproarious bio-page

Uproarious arrives!... after a thunderous ovation from the crowd at Hawaii YC

it's not apparent yet, but this will be one of the best sunsets of the week..
Phil Drips, Frank Brandt & co there in the power boat, over from Waikiki YC

The hosts for this one, Hawaii Polo Inn are ready with the leis..
and Hey! - that's Michelle, their PR person there in the middle
check out the link for more from them....

it's lookin like this guy is REALLY lookin forward to getting lei'd, eh?
yep - a dirty job this gettin lei'd is, but somebody's gotta do it....

Lei greetings have gotta be one of the best parts about landing in Hawai`i
and it's a centuries-old tradition ...quite the way to say ALOHA, huh?

as the boat gets tied-to, that sunset is developing nicely
Uproarious was one of the first 2 entries, last December...
and yesseree - they made it at last - tho not in last...

back on the other end of the boat, the greeting crew gets busy

the Uproarious Crew - lookin good, BUT...
maybe we could get a bit more uproariousness goin here, huh??

now that's more like it!!
and how's that sunset, eh? - not exactly the everyday-kine, this one...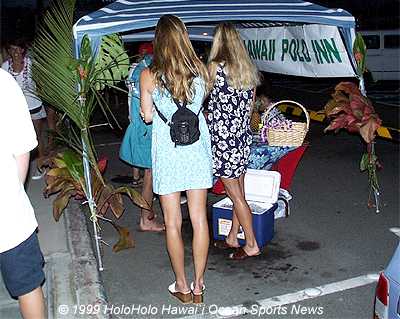 hmmm... things are starting to look REALLY good ashore....
great-looking setup here - and the food was OK too! ;)

meanwhile... The Action is just kranking-up at the Hawaii YC TransPac Party
more on that, later.... for now tho - we wait on word from the 4 straglers.