they finally found Vapor!!
and they're on their way in - more soon...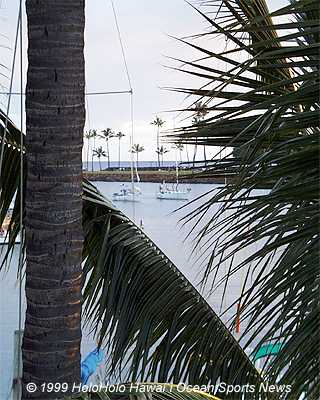 talk about 'getting out of the woods', eh?
after 18 daze Out There, Vapor and 2 Guys on The Edge enter the Ala Wai turning basin

and lucky for US, they make it in time for another great sunset
'cause another all-nighter and the ole liver would go on strike ;)

the landing crew ready to grab the line...
"throw you the rope? - throw me a Mai Tai & I'll think about it!.."

"so.. what do we gotta do to get lei'd and a drink around here?.."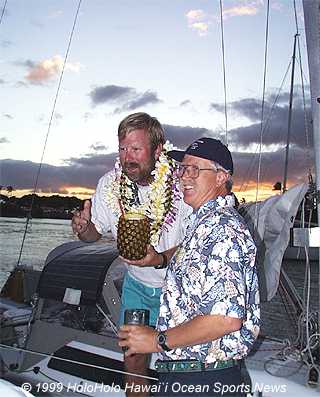 Scott Atwood here with a pineapple full of Mai Tai, with one of the guys
from Stealth Chicken, as the sunset flares

"are ya ready, Boyd?.."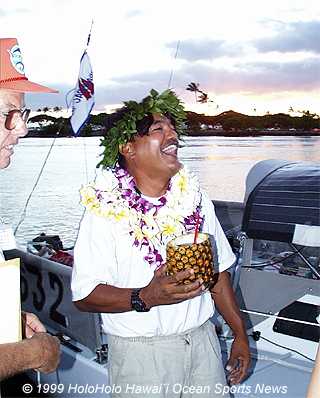 "think so... you ready Atwood?..."

The Mai Tais.... Ready, Set..... HOIST EM!!
you guys sure musta been thirsty - after 18 daze, huh?....
Bill Boyd & Scott Atwood or (pun strictly intended) 2 Guys On The End.... ;)
Bill is originally from Hawai`i, but now hangs out at Alamitos Bay Yacht Club

The Grandson.... over for a surprise visit with his mom

The Crowd.... looks like this was The Biggest Arrival Party of em all..
being hosted by Parents And Children Together (PACT)
here on the fabulous cool green lawn of Hawaii YC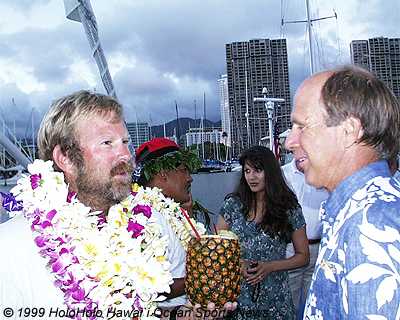 The Competition.... 2 Guys' Les "on The Edge" V. there on the right
with Atwood... and Boyd with The Daughter (mother of The Grandson) there in back

uh oh - sneaking up along side with - guess what's next???... uh huh - you got it....
The Trophy.... for Tail End Charlie (aka DFL, fer you non-yachtie types ;)
being delivered and presented by Keith Stumpf, 1997's 'lucky winner'

"yeah yeah yeah... like we really want this one..."
and then someone yells "go ahead and ring the bell"
course just 'cause they're DFL, it don't mean they're gullible too....

well...one of the Tail-ended-est Tail End Charlie's in a while, huh?
Better Late than Never, boys - but you guys sure missed a Great Party last night
Waikiki YC's Party the night before and Hawaii YC's Party the night before that...
but that's sho-nuff OK, because we're damn glad to see yaz!!!
after 14 days without any word, the thot of y'all gittn... umm.. like..
Vaporized out there was crossing people's minds....
Vapor's 'new name' ? - "NightFright" - after a couple of night's
of 18 knot+ surfing sessions - according to The Crew
More from Vapor's materialization