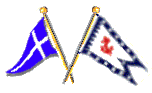 Hurricane (11th in)
Arriving Diamond Head Light at
17:42:09 HST Monday July 12, 1999
WINS! in The Cruising Division



Prev Arrival ~ Next Arrival ~ More Arrivals ~ Latest News ~ More News

well... when we last left TransPac Row, it was a lot darker


and a lot more crowded with a fairly rowdy bunch of Mongeeses
so... while waiting on Hurricane to blow in, The Paparazzi went down to
Hawaii YC to see what kind of trouble there was to get into there....

and WHOA!!.. look what we found - just inside the front gate....
Bob Hinman here, surrounded by trouble....
that's quite a handfull, ya got there, Bob..... & lookin perty dangerous, too

meanwhile... back up the Row - The Hurricane Crew has just swirled into port
and.. while they were at it - Finished 1st in The Cruising Division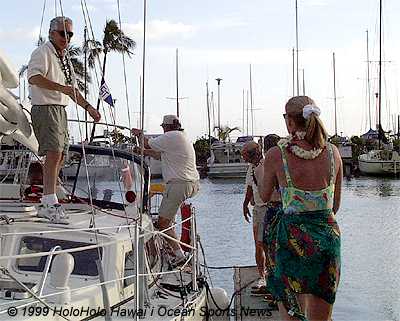 you probably can't see it, but what is happening here was
the ever-friendly greeting crew - Art Burt & Susan Strong - was blasting em with champagne
and since the crew was apparently all freshly showered for the occasion
one of em is running fer cover, while the others were smart enuf to stay on the bow

the now freshly-drenched crew of Hurricane.... ;)
have seen it rain hard here before - like cat's & dogs kine rain, but....
never have seen a champagne hurricane before...

another snappy TransPac Row extravaganza hosted by
Snappers Sports Bar and champagne shower service...

maybe could we interest you girls in some ice cold bubbly?
hey!.. there's one of them Waikiki YC TankTops

Hurricane Kim... and Kim.. Stebbins, catchy, huh?
would luv to hear the story of how this 'storm' started... ;)
Next Arrival
ETA Logs ~ First to Finish ~ More Arrivals ~ Latest News ~ More News


HoloHolo Hawai`i Ocean Sports News
Last Modified: 19990712.2159 HST Monday
Copyright © 1999, and produced online by
HoloHolo Internet Publishing, all rights reserved