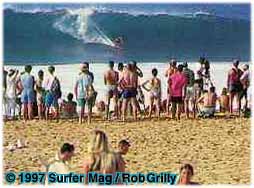 PIPELINE
Site of the
Gerry Lopez Chiemsee Pipe Masters
Dec. 8-20
On a good day, Pipeline can be one of the greatest natural shows on Earth: a huge, thick, heaving wave that breaks maybe 100 yards from the sand. It's a wonderful viewing arena, with a beach that banks steeply upward as it moves inland, allowing innumerable vantage points from which to view the action. It's also right off Kamehameha Highway, adjacent to Ehukai Beach Park and directly across the beach from Sunset Elementary School.
SUNSET BEACH
Site of the
Rip Curl Pro World Cup of Surfing
Nov. 24-Dec. 6
When the swell is right and the wind is good, Sunset Beach is a breathtaking place to watch surfers tackle some of the biggest rideable waves in the world. Because the most spectacular action takes place a good quarter-mile out to sea, Sunset is a good place to break out the binoculars. It's easy to find. Drive east from Haleiwa on the Kamehameha Highway, and as you near the north end of Oahu's North Shore, you'll see it from your car.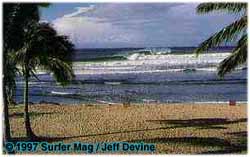 HALEIWA
Site of the Op Hawaiian Pro
Nov. 12-23
Hale`iwa is another excellent venue for spectators: a shallow, speedy right-hand reef wave that breaks relatively close to shore, with plenty of places to sit and watch the show. It also has ample parking. Go to Haleiwa's Ali'i Beach Park. It's just west of Haleiwa Harbor, which is a stone's throw from the town of Haleiwa.