The Rip Curl World Cup of Surfing
Presented by Zeal Optics
Along with 3rd Jewel in
The Womens Triple Crown of Surfing
Sunset Beach, November 24-December 6, 1997
See: ASPLIVE Action
Live from Sunset during contest
Now in its 25th year, the World Cup (this year sponsored by Rip Curl and presented by Zeal Optics) is one of the oldest surf contests in Hawai`i, and has been the site of some of the most memorable contest surfing in the sport's history. The proving grounds for surfers for decades, Sunset Beach has seen its share of competitive glory. From windy days with giant surf on the outside peak to smaller, glassier days on the inside bowl, the World Cup has been held in all conditions, never failing to present a challenge to competitors. Sunset's powerful, deep-water waves test not only the surfers' wave-riding skill but also their endurance, as they contend with furious rip currents, strong winds and thunderous, shifty peaks.
The second jewel in the G-Shock Triple Crown of Surfing, the four-star ASP World Qualifying Series event features a field of 132 men competing for $80,000 in total prize money. It is the final event on the 1997 WQS tour, and for many surfers will be their final chance to make the cut for the 1998 World Championship Tour.
The Quiksilver Roxy Pro women's event will also take place at Sunset during this waiting period, pitting the top professional women surfers in the world against each other and, of course, the world-famous waves of Sunset Beach.
SUNSET'S INSIDE BOWL. MEANER THAN IT LOOKS.
AND IT LOOKS PRETTY MEAN. PHOTO: JOLI


A longtime supporter of professional surfing and a household name in wetsuits and surfing accessories, Rip Curl is elated to finally be hosting a professional surfing contest in Hawai`i.

The other two big Rip Curl contests--one in Hossegor France and the other at Bells Beach, Australia--have long boasted high-performance surfing in classic surf. Thus, it's a natural for Rip Curl to host a Hawaiian event, and doing it at Sunset Beach only adds to the Australia-based company's rep for holding quality events in quality waves. In association with Rip Curl, Zeal Optics will aid in the sponsorship of the World Cup for the second year in a row.
GARY ELKERTON, ONE OF THE GREATEST SUNSET
BEACH SURFERS OF ALL TIME. PHOTO: DIVINE.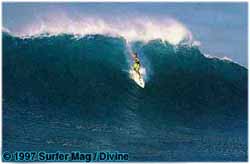 Successful World Cup competitors are those who ride the waves at Sunset with grace, style and apparent ease. The volume of water moving through the area makes positioning crucial and, as surfers take off on lofty peaks, they lunge shoreward at blistering speeds. After negotiating through a tricky middle section, the wave passes over a shallow spot in the
reef closer to shore. Sunset's notorious inside bowl usually develops at this point, allowing surfers to pull into the warbly tube section, often with disastrous results.