OP Womens Pro Results:

Round 1 (40) (11/13) -|- Round 2 (32) (11/17) -|- Qtr Final (11/21) Semi Final (11/21) -|- Final (11/21)

Action Slide Show from The Final


Hale`iwa, HI (November 21, 1997)-- Brazilian dynamo Maria Tita Tavares sizzled in the surf today as she charged her way to the women's title of the OP Pro Surfing Championships at Haleiwa's Ali'i Beach Park.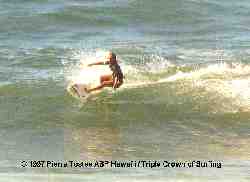 In her first appearance in a Hawaiian contest the 4'10" Tavares got right down to business, taking an early lead in difficult 3- to 6-foot waves that were made more difficult by a strong-running northerly current.

Tavares held her lead for most of the 30-minute heat while Hawaii's Megan Abubo and Australian Layne Beachley traded points for second.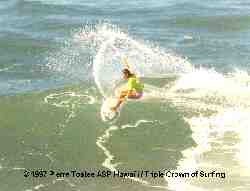 Megan Abubo kickin it up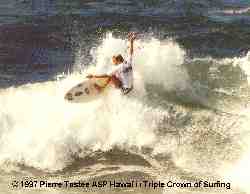 (Layne "Beast" Beachley, bashin big ones)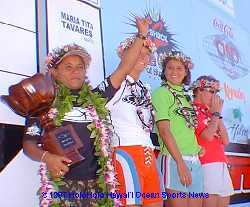 Tavares caught seven waves (out of 15 allowable) with a total heat score of 16.87, won $3,000 and the title in the first women's contest in the 1997 G-Shock Triple Crown of Surfing . She now leads the women's division for the new Series title -- the 1997 Women's TripleCrown of Surfing Champion
-- presented by Kahlua.

(Just a few days after her arrival in Hawai`i, Tavares misplaced her back pack with $2,000 and her passport papers in it. Luckily, someone found it and and she got it back, with $900 still in it and her travel documents intact.)



"I have to stomp on the ground to see if I'm really here," said an ecstatic Tavares through her translator. "This is my first time here in Hawai`i, at Hale`iwa. and I have no experience at all with these waves. Thank God I kept a calm head."

Tavares supports her family in Brazil, with her surf winnings. When asked how her family might react, she said: "My family will be happy, but not only my family -- also my sponsors who made a big bet with me -- Pena, Reef Brazil and Radical surfboards."
Layne Beachley, Australia, was second and got $1,500. Her heat score was 15.34 and she posted the highest wave score of the final -- a 6.10 on her third ride, after spending precious minutes trying to paddle out to the break after being driven north toward Hale`iwa Harbor by a strong north-setting current.


"I didn't give myself much choice about catching waves," said Beachley, 25. "I caught two at the start then I got caught inside and made the crucial mistake of trying to paddle to the outside instead of running in and coming up the beach."
"I lost so much time, I basically went on a paddling expedition and came back in the last eight minutes of the heat, so I was stoked I got second. I was sitting out there laughing to myself," Beachley said. " I had no idea what I was doing. I was just paddling around saying 'this is outrageous.' "

Although she caught nine waves and sat in second place until Beachley made her way out of the current, Abubo finished a disappointing third in her home break with a total wave score of 14.90. She got $1,000.
Knowing that today's result would depend on wave choice, Megan Abubo felt she didn't make the right ones.

"I actually got a lot of close outs and I'm kind of bummed that maybe if I'd made some turns on the end of my waves, I would have done better," Abubo said. "You just had to really put it all together out there. It was hard to get the right waves. There were really tough conditions and very tiring after surfing three times today. I was excited to make the final but I would have loved to have won."
She got $1,000 and will now have to place very high in the next women's contest to make it into the Top 11 for next year's women's world championship tour.

Lynette MacKenzie, Australia, 22, won $900 but had an "absolute shocker" of a heat from start to finish. Her final heat count was 7.17.
"I only caught three waves in the final," she said. "Every wave I got on the head. In the quarter final and semi final earlier today I was in rhythm with the ocean, but I just wasn't meant to be out there in the final. I couldn't get a wave, Mother Nature just wasn't coming to me. I'm here to qualify for the Top 11 next year but I still have to do well at Sunset to make sure."

The men's OP Surfing Championships will conclude tomorrow. To find out what's happening, call the Hotline at 808-637-6376 or dialup the official web page:
http://holoholo.org/triplecrown/
For Media information: Carol Hogan
Phone: 808-637-4771. Fax: 808-637-1759
---
Men's OP Pro Surfing Championships Nearing Finals

OP Pro Mens Results:


Round 1 (64) (11/21) -|- Round 2 (32) Thru Heat 4 (11/21)
Hale`iwa, HI (November 21, 1997)-- Watching the OP Pro Surfing Championships today at Haleiwa's Ali'i Beach Park was like trying to watch the best two rings of a three-ring circus. While the best female professional surfers in the world were on stage receiving their final awards, the best male surfers were in the water closing in on their final events tomorrow.
The men's OP Pro is the first men's competition in the 1997 G-Shock Triple Crown of Surfing Series and is the penultimate World Qualifying Series (WQS) contest of the ASP World Tour.
One of the surfers providing spectators all the action they could handle was Australia's Mark Occhilupo, a power-surfing crowd pleaser no matter which break he chooses, whose never done well at Haleiwa's Ali'i Beach Park break.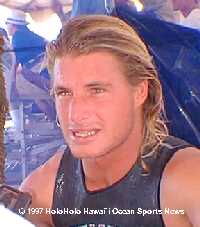 "I have no history at Haleiwa," Occhilupo said. "It's funny because I've always had a lot of people come up to me and say 'how come you don't do well at Haleiwa? It would really suit you.' I've always thought the same but I've never done well here." His final heat score was 19.93.
"Occy" made a little history today, winning his heat and beating reigning world champion Kelly Slater with a total heat score of 19.93. Second was Marty Thomas, California, 19.10, Slater was third, 18.94 and Toby Martin, USA, was third, 13.10.
"I've probably competed here about eight times, but I've been coming here 10 years," Occhilupo said. "It's a hard wave to get used to. When the west swell's on I think it's a bit more surfable, but today it's north and it's hard. Sometimes when it's hard it makes you try harder, so that's probably what happened to me today.
"It's a bit easier to contest four man WQS heats in Hawai`i because it's (the waves) a lot more consistent, so the hassling factor's not a problem," Occhilupo said. "Myself and a lot of the top 44 guys alike are after the prestige of winning the Triple Crown and that's why we're going in these events rather than just sticking to the WCT contests.
"It was a real inspiration to surf against Kelly in that heat and Hale`iwa has eluded me for ages, so they're good enough reasons for why I'd like to do well here."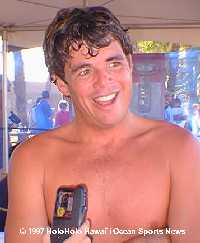 Marty Thomas heaved a big sigh of relief as he made it through today's heat. "I had a really slow start, the conditions are tough out there so I knew it was going to be anyone's game. But I connected with two sets at the end and I guess that put me right in there. I didn't hear any scores out there, I was just trying to get my three waves."
For me this is quite an accomplishment. I've been in this situation before," Thomas said. "I've been in the quarter finals before in Hawai`i, and now I've just got to forget about my personal situation, concentrate on the heat ahead and see if I can't put a few more waves together and get a good result here. Conditions are improving, I think it's going to be a little cleaner tomorrow ... I hope. There's no pressure for me as far as qualifying so it's just a matter of enjoying it and having some fun out there."
Someone who won't be having fun is Hawaii's John Shimooka, 28. He's hobbling around the contest on crutches and won't be surfing in any Triple Crown events.
"I was practicing, trying out new boards at Backdoor," Shimooka said. "It was perfect 4-6 feet, and I took off on one, a little too deep. When I pulled in and I couldn't get through the tube and got slammed like a rag doll on the reef. I ripped a big hole in my right foot, a long cut, it chipped the bone and the rest is history. It was a pretty good wipeout, one of my better ones.
"I'm regular foot so its my back foot, my power foot, where all the pressure is," Shimooka said. "It's all part of the job. People don't realize how extreme surfing is. They think wow, it's such a beautiful thing. But there's a bottom to that water too, and that's how the waves break and sometimes you end up on the bottom. I would rather have it happen after Triple Crown, cause I'm at home and I was really looking forward to surfing. My boards are so good."
Fortunately Shimooka qualified for the Top 44 at Guadaloupe Island last month and will join the World Championship Tour for 1998.
"It couldn't have happened at a better time, although I really wish the accident hadn't't happened at all," Shimooka said.
Competitors advancing through today's four Round 2 heats are: Australia: Tony Ray, Luke Hitchings, Mark Occhilupo USA: Marty Thomas, Taylor Knox, Brad Gerlach, Danny Melhado Hawaii: Spain: South Af: Paul Canning
Surfing tomorrow are: H5: Andy Irons, C.J. Hobgood, Larry Rios, Cory Lopez . H6: Kaipo Jaquias, Bruce Irons, Peter Mel, Kalani Robb. H7: Mike Rommelse, Ross Williams, Dino Andino, Richard Lovett. H8: Shane Beschen, Keith Malloy, Sunny Garcia, Boris Le Texier.
For more information:
Carol Hogan
Lava.Net/GTE Wireless - Ali`i Beach Media Center
808.637.4771 Fax: 808-637-1759.
Check out the official Triple Crown website at:
http://holoholo.org/triplecrown/
News from prev day -|- News Index