OP Junior Results:

Round 1 (32) (11/17) -|- Qtr Final (11/17)
Semi Final (11/18) -|- Final (11/18)
Hale`iwa, HI (November 18, 1997)--Tiger Woods didn't get to play golf because torrential rains flooded the Kaua`i greens where he was supposed to play today....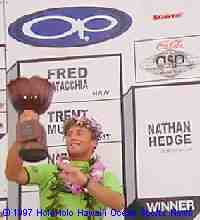 But surfers were right on their game at Ali`i Beach Park in Hale`iwa and the rain didn't bother them a bit, especially Australia's Nathan Hedge, who simply used the rain-smooth water as his personal playing field to win the OP Junior today.

Although the rain drove away spectators, conditions were near-perfect with glassy, 4-6 foot waves and no wind for the only junior contest in the G-Shock Triple Crown of Surfing.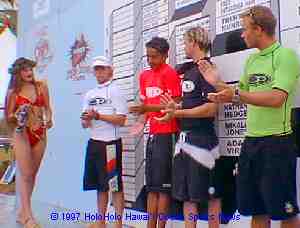 With wave scores of 8.50, 8.37 and 7.93, Hedge, 18, from North Narrabeen, Sydney, posted the highest wave scores of the entire contest for a heat total of 24.80. He won a $2,500 scholarship and out surfed fellow countryman Trent Munro (22.17), Hawaii's Fred Patacchia, (20.01), and Florida's Damien Hobgood, (18.56).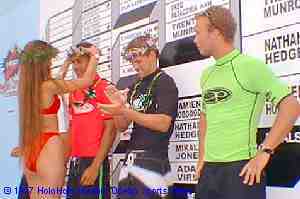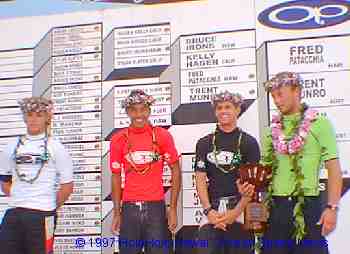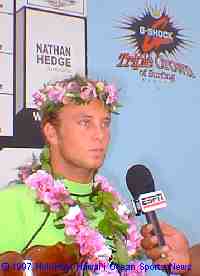 "It wasn't too bad, I got couple of good waves out there," said Hedge. "I had a pretty good semi final so I just wanted to do the same and hope for the best. It was quite fun Hale`iwa, it was quite smooth. There was a little bit of drizzle rain and that backed off the onshore wind. There was no particular wave that did it for me, but there were three solid waves."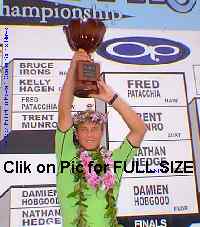 This is Hedge's first Triple Crown contest but he's spent a lot of time at Hale`iwa surfing with his friend Pancho Sullivan. Hedge plans to enter the ranks of pro surfing and will join the 1998 Association of Surfing Professionals World Qualifying Series tour in February 1998.

Trent Munro,18, is already on tour and competed in Europe, South Africa and now the United States, but this is his first Triple Crown.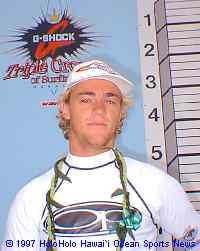 "I had a fair bit of competition this year," said Munro. "Before I came over here I won the Australian Junior Championships. When I was told I was in the contest it was a bit of the shock because I had no idea. I sat down and said to myself, 'all right, you've got to come up with the goods -- a good result.' It's always better to be the winner but I can't complain about second.

"The waves were unreal, there was enough size and a lot of power," Munro said. "After a ride when I was inside and paddling out, I was watching the waves coming through. They were really good size and they kept coming, and every time I paddled out I'd see one of the three guys absolutely going off."
Patacchia, the only finalist from Hawai`i, was glad the competition was over.
"No more stress," Patacchia laughed. "I saw a lot of the rides the other guys were getting. I just wanted to top them and try to do better than they did, but it was really hard, they were surfing really good.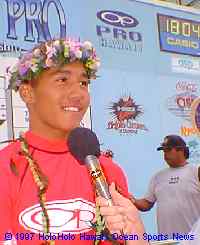 "I was going for straight up vertical maneuvers trying to send up as much spray as possible and also getting in the most critical part of the wave," Patacchia said. "My backside snap was the best today. On most of my waves I completed pretty good vertical snaps right off the first bottom turn and tried to follow them up with any other maneuvers I could think of. I tried to do as much as I could cause I know what gets high scores. Then I'd try to mix it up with some cutbacks and floaters."

In between the junior heats, contest officials ran the men's OP Pro competition. Nine of the 16 round one heats were completed.
---
Men Surf in OP PRO
Before thunderboomers, rain end Round 1 at Heat 9
Results: Round 1 (64) Thru Heat 9 (11/18)
Hale`iwa, HI (November 18, 1997) -- Competition began this early this morning with the men's OP Pro Surfing Championships at Ali`i Beach Park in 4 to 6 foot glassy waves with cloudy skies that promised rain. In between the men's round one heats were The OP Junior semi finals and final heat.
The OP Pro men's contest is a three-star World Qualifying Series event, sanctioned by the Association of Surfing Professionals, and is the first jewel in the G-Shock Triple Crown of Surfing.
Today the world's best surfers made it clear to each other that getting a piece of the $60,000 purse wasn't going to be easy. A high finish is also important for accumulating the needed points required to win the coveted men's Triple Crown of Surfing Championship title. Kaipo Jaquias, who has yet to surf, won the Triple Crown title last year, and the men's OP Pro.
One of those looking to win a second Triple Crown Championship title is current world champion Kelly Slater, who first won it in 1995. Slater had an early morning heat today and wasted no time establishing his presence with an opening wave score of 7.67, followed in succession by a 6.83 and a 5.70. After these rides, his closest competitor, Australia's Toby Martin, needed a 7.41 to catch up. Slater then surfed for fun averaging 2.00 points each over his next four rides and won the hat with a 20.20 to Martins 18.00, Ronnie Yamada's 12.50 and Chris Gallagher's 10.10.
"I think with all the guys being here, they might as well surf the contest," said Slater, who doesn't need to surf WQS events since he's already number one in the world. "I didn't get here today in time to watch the conditions and stuff so I didn't know what I was in for, but I got a few waves off the back and I had three waves before anybody even had two good ones.
"At the end of the heat I was trying to loosen up and just try to get a few different positions with my board because I just put some new fins on it," Slater said. "I was really trying to feel the board out and I had some room to play because I was ahead. I made a bunch of mistakes at the end and just kept falling, but luckily I was ahead enough to stay in there.
Slater would like to win the Triple Crown title again and: "Being here and renting a house on the North Shore is pretty expensive, so you might as well try and make some extra money," said Slater, who has already earned more money than any other surfer on the tour.
California surfer Marty Thomas lived on Oahu's North Shore and surfed Triple Crown for many years. His experience showed today as he won his way through another heat.
"It was a good heat, I sort of got on the rhythm but Laka (Burgess, Haw), Occy (Mark Occhilupo, Aus) and Luke Stedman (Aus) were sort off rhythm, they were getting the scraps," he said. "I was fortunate enough to get three sets. I played it a little conservative when I was on the waves because I knew I had good scoring waves and I was guarding against any mistakes."
His care paid off when he ended his heat with 20.50 points. Occhilupo tallied 16.33, Burgess 15.20 and Stedman 15.03.
"It was a little bumpy out there, but I found the second and third waves of the sets were a little smoother, whereas the first wave was the bumpy one," Thomas said. "I think the visiting surfers are pretty frantic, they're out there trying to get waves as quick as possible. If you're familiar and a little more comfortable with the conditions you can be more patient and wait for the better wave. You have an idea what you're looking for".
Rain, thunder and lightning finally shut down competition after nine of the 16 round one main event heats had been completed.
Competitors advancing to Round of 32:
Australia: Taj Burrow, Luke Hitchings, Tony Ray, Toby Martin, Mark Occhilupo, Brendon Margieson
USA: Chris Ward, Kelly Slater, Marty Thomas, Brad Gerlach, Taylor Knox, Damien Hobgood, Danny Melhado, C.J. Hobgood.
Hawai`i: Myles Padaca, Andy Irons.
Spain: Eneko Acero
South Africa: Paul Canning

The men's and women's OP Surfing Championships will continue tomorrow, surf permitting. To find out what's happening, call the Hotline at 808-637-6376 or dialup the official web page:
http://holoholo.org/triplecrown/
For more information:
Carol Hogan
Lava.Net/GTE Wireless - Ali`i Beach Media Center
808.637.4771 Fax: 808-637-1759.
News from prev day -|- News Index