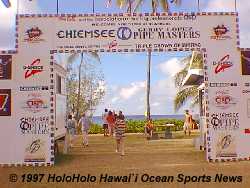 Banzai Pipeline, HI (December 14, 1997)--For six days the Chiemsee Gerry Lopez Pipe Masters -- the third jewel in the G-Shock Triple Crown of Surfing --
has been in a holding pattern waiting for ridable waves. The Pipe Masters is the last stop on the Association of Surfing Professionals World Championship Tour for 1997.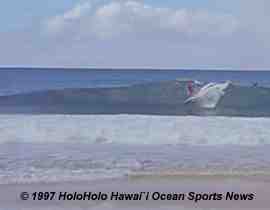 Today, three- to-five-foot sets with clean faces arrived and the contest got underway with four-man trial heats and round one heats one through six.
Five wildcard surfers advanced out of the trials and into the Main event to join the world's Top 44 professionals in the Main Event. Those advancing out of the trials were all from Hawai`i and included former Pipeline winner Michael Ho, Kauai's Andy Irons, Myles Padaca from the Big Island and O`ahu's Larry Rios and Johnny Boy Gomes.
In a telling trials semi-final that included Irons, Ho and Taj Burrow from Australia, Padaca brought the crowd to its feet when he took off on a long right and maneuvered across the wave, then ducked into a small tube for a score of 10 from three judges.
What made it so unique was that he could curl his six-foot frame into the small tube, crouching small enough to be completely covered and then come out the other side.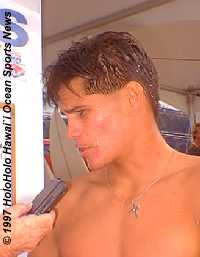 "You crouch, squat, lean forward," said Padaca, who moved from Hilo to O`ahu's North Shore six years ago. "You make all sort of subtle adjustments in the barrel just to keep going. Its a revolutionary new technique developed by an actor named Keri Tagawa. I've been training with heavy weights for the past four years. Now it (his training) has to do with all your movements done in the water; a martial arts using the breath, fins and hand paddles, it's kind of like tai chi martial arts in the water."
"I was inside and saw the beginning of his ride," said Irons, who won the heat with a 25.50 score. "I didn't think he made it, I just heard the crowd on the beach. It was a great heat, I was really excited. Everybody was getting barreled, it was non-stop. That heat was so intense because there was a lot of talent out there."
O`ahu's David Gonsalves didn't make it through to the Main Event but posted the highest heat score of the day with a 27.15 in the trials with two rides at 10.00 each.
Once the trials were completed, the wildcard surfers joined the Top 44 in round one of the Main Event, completing three man heats one through six.
Ideal off-shore wind conditions today offered plenty of tube riding potential and several high wave scores. Sydney's Damien Hardman was one of the standout performers but was forced to draw upon tactics and determination to keep himself in the competition.
Midway through his first round heat Hardman incurred a paddling interference which left him scored on just two waves as compared to his rivals' three scoring rides. But Hardman, 31, kept the pressure on Brazilian Jojo Olivenca to eventually advance in second place with a score of 15.50 points out of a possible 20 points over two waves.
"The best I can finish on the ratings this year is fourth. I'm currently fifth and stoked with that. I've had a pretty good season," Hardman said. "But my motivation in this contest is not the ratings, I just want to get to surf big, perfect Pipeline with only one other guy out in the water.
"I was pretty angry at the paddling interference call made on me. That particular wave was a simple peak," Hardman said. "Anywhere else in the world the judges would have called a double interference on the two of us, but for some reason today they only penalized me. I think it was a bad call. But I still got through so now I'm hoping the waves pick up for the next couple of rounds."
The first six heats of the first round were completed before sunset today with Australians Hardman (Narrabeen), Richie Lovett (Manly), Beau Emerton (Forster), Luke Egan (Gold Coast), and Matt Hoy (Newcastle) advancing through to the second round. Two Australians were eliminated today in Jake Spooner (Wollongong) and Michael Barry (Gold Coast).
It will take just two full days of competition to complete the Chiemsee Pipe Masters and there are six days remaining within the allotted waiting period. It is quite possible that the next few days will be lay days as organizers and surfers await the arrival of the next serious swell, expected to arrive Thursday/Friday.
For more information:
Carol Hogan or Jodi Holmes in Hawai`i
808-638-5533 / Fax: 808-638-5008
Australia: Stacey George at IRPR
(02)93601166 Fax: (02) 93609836