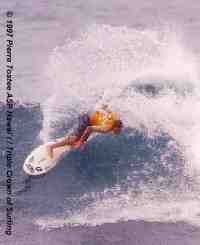 Sunset Beach, HI (December 4, 1997)-- Australian Mike Rommelse, today's lone goofy footer in the final heat of the Rip Curl World Cup of Surfing presented by Zeal Optics, nailed Sunset Beach waves and hammered his way into first place in the final World Qualifying Series event of the 1997 season.
Today's Sunset waves were in the 4- to 6-foot range which in the past has favored the Aussies, including Australia's Mark Richards who won the first World Cup in 1975 and 1996's Paul Paterson. Rommelse, a nine year veteran of the Association of Surfing Professionals world tour, has only one other win to his credit, a first in the Newcastle City Pro in 1995.
Today he won $8,000, out pointing Hawaii's Pancho Sullivan, who won $4,000. Rommelse had a total heat score of 22.07 to Sullivan's 20.83. In third place was Australia's Simon Law, $3,000 followed by Taj Burrow from Western Australia, $2,600.
At the presentation ceremony prior to the final heat it was pointed out that Rommelse was the only goofy footer (right foot forward) in the heat, to which "Rommel" replied: "I like being the odd man out. I prefer it like that."
There was nothing odd about his surfing. While his rivals rode the Sunset peak with trademark, drawn out 'big-wave' turns, Rommelse took to the powerful line-up as though he were attacking a three foot beach break wave. His turns were tightly condensed and executed with reckless speed from bottom turn to off-the-lip tactics, allowing him to rack up a higher number of scoring maneuvers per ride. Teamed with a couple of choice waves sent his way by Mother Nature, the Aussie powered to first place.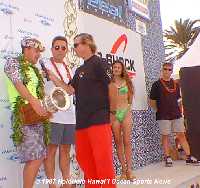 "I was trying to fit as many maneuvers into a ride as possible and I could surf a lot tighter on my backhand," Rommelse said. "The good ones allowed me to do a lot more maneuvers and get a little more vertical than I could the past few days when it was a bit out of control.
"I think being on my backhand was an advantage," Rommelse continued. You can get a bit tighter on your backhand and generally backside guys surf more vertically. I went into the final thinking it was a good thing to be the only backsider. It was never a major goal of mine but it was always there, like 'Gee it would be good to win an event in Hawai`i'.
I was really stoked with just making the final," said Rommelse. "I was thinking, 'I've finally won a trophy from Hawai`i'. I kind of took a bit of pressure off myself by making the final and I was pretty relaxed. The Triple Crown is something that would be incredible to win. I think that's everyone's dream. To win an event here is one thing, but to win the Triple Crown is the ultimate. I'll be trying not to think about that too much and just take the Pipe Masters one heat at a time. I do pretty well at Pipe, so long as it's just a left, I don't want to know about that Backdoor stuff!
(The Pipe Master's holding period starts on Monday, December 8 at Ehukai Beach Park.)

"It's always been my goal to someday win the Triple Crown," said second place finisher Sullivan. "If I get into Pipe through the local trials -- and I guess that's the hardest part of the event -- I'll definitely be going for a Triple Crown win. People look to Hawai`i as having some of the most challenging conditions and because we have quality surf there's a lot less struggling and more pure ability shines through.
"Hawai`i has always been a place where you prove yourself reputation wise. I look at the Triple Crown as something that proves where you are in the surfing world," said Sullivan.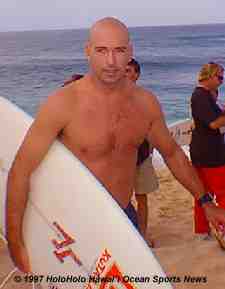 Law acknowledged that at 32, he's the oldest surfer to ever requalify for the ASP World Championship Tour: "I'm ready to give it to those guys. I'm ready to charge," Law said. "I think I relaxed a bit too much in the final and let Rommelse get all the waves. But I'm stoked, it was a big goal of mine to reach the final and of course I wanted to win it. It's been a good week; more to my liking the last few days when it was big. When I arrived here this-morning I thought it was all over for me, but as it turned out I kept going. It's been a great week and to requalify is awesome."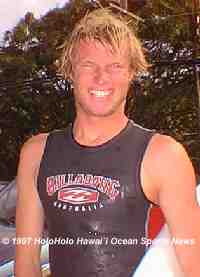 The youngest surfer in the heat was Burrow, who at 19 has already reached a lifetime goal: "Making the final at Sunset Beach has always been a big goal of mine and it was this year, so I'm really happy with that, Burrow said. I was trying to stay relaxed in the final and not push too hard but in the end I was just left picking up the scraps in the final. Rommelse dominated out there and he had all the best waves, but this whole event has been a really satisfying one for me."
World Qualifying Series leader Victor Ribas surfed in the first quarter final of the day and finished in third place then sweated through Australian Beau Emerton's third quarter final because Emerton, in second place on the WQS ratings, was the only person who could ace him out.
"I hope he doesn't get through again," Ribas said. "I don't have anything to do now, but watch and wait." As fate would have it, Emerton ended up in third in his heat so the standings remained the same -- Ribas first with 11,280 points and Emerton at 10,890.
The $120,000 Chiemsee Gerry Lopez Pipe Masters is the last event of the Coca-Cola/ASP World Championship Tour. All telephone and fax numbers remain as shown below:
For more information:
Carol Hogan or Jodi Holmes
Lava.Net/Honolulu Cellular - Sunset Beach Media Center
808-638-5533 Fax: 808-638-5008
Check out the official Triple Crown website at:
http://holoholo.org/triplecrown/