Banzai Pipeline, HI (December 18, 1997)--The beach was jammed but deathly quiet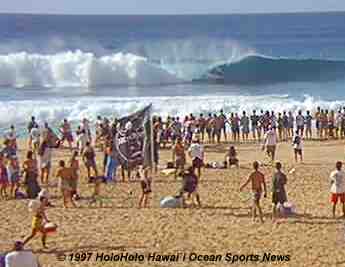 for the heat of the day as fans watched Hawaii's "Johnny Boy" Gomes defeat five-time world champion Kelly Slater for the second time in a sudden death afternoon heat at the Chiemsee Gerry Lopez Pipe Masters competition at Ehukai Beach Park.


In an early morning heat Gomes' local knowledge paid off as he chose the best waves, got tubed, got 10s, and advanced out of heat 8 this morning with a 15.00 score to Slater's 14.60 points and the USA's Pat O'Connell, 8.50 points.
With surf generally in the 3- to 5-foot range, Gomes and Slater met again in round 2, heat 8 and out of nowhere, the best waves of the day began pumping through Pipe. Gomes wasted no time. He nailed all the best tubes while Slater, famous for his last second comebacks, got trounced and failed to make it through most of his tube rides. This time, instead of beating Slater by .40 points, Gomes put the defending Pipeline champion out of the 1997 competition with a solid 5.90 point lead to advance to round three.
Gomes, a wildcard, surfed out of the trials and now advances to round 3 where he will meet up with 1996 Triple Crown champion Kaipo Jaquias.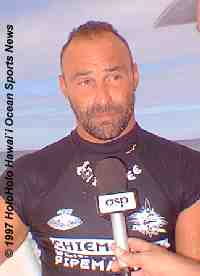 "I have the utmost respect for Kelly's surfing, he's the five time world champion," said Gomes. "But by the same token he's human and he's beatable. I knew in my heart and soul that I could beat him out here. There's not too many people who can say that they beat the five time world champion twice in one day. Whenever you surf against the five time world champ you can't take it too lightly. I've been waiting all year for this."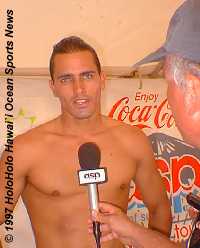 "I'm disappointed to lose out so early," said Slater. "I fell on four good barrels and surfing against a guy like John at Backdoor and Pipe you can't afford to make those kind of mistakes. I've had a pretty good string of luck here but it had to run out some time. The finish of the season wasn't so great for me. I wanted to do well in the Triple Crown but I didn't have such good results. The past few contests have been a little disappointing for me but the rest of the year was good."
Brazilian Fabio Silva, who has recently qualified for the 1998 Top 44, eliminated experienced Pipe Masters surfer Luke Egan (Aus), continuing a string of "rookies-defeating-veterans" in this contest.
Australia's Michael Rommelse, leads the race for the Triple Crown Championship. He won his heat this morning with 17.75 points against Hawaii's Shane Dorian (2nd, 15.25 points) and Tahiti's Vetea David (3rd, 6.50). Rommelse next meets the USA's Taylor Knox in round 2, heat 16 tomorrow.
"I'd be lying if I said the Triple Crown wasn't on my mind," said Rommelse. "That was a real pressure heat for me because I haven't looked at the points and I figured if I could get through one heat out there then it would really help."
David's loss marked the final heat of his professional career. On tour for the past 14 years David announced that he will not return to professional competition after officially dropping out of the Top 44 today.
Hawaii's Shane Dorian defeated Australia's Barton Lynch 18.75 to 15.15, and marked the end of former world champion Lynch's professional career. Lynch earlier announced that he would retire at the end of this year.
"It's pretty emotional really," said Lynch, a 15-year veteran of the pro tour. "It was a fun heat though. Shane and I surfed with good spirit and he gave me a wave at the end which was the best one I had. But I'm not feeling much like talking right now."
Hawaii's Conan Hayes will have to requalify through the 1998 World Qualifying Series tour if his long term goal is to return to the elite ASP Top 44 ranks.
The Pipe Masters is the third jewel in the G-Shock Triple Crown of Surfing and is the final World Championship Tour event on the ASP's (Association of Surfing Professional's) tour.
Additional Quotes:
Myles Padaca: It feels pretty good to have a couple of 10's under your belt. You never know what's going to happen out there, you're always at the wave's mercy. The wildcards at a spot like this most definitely have a good chance of taking out the event. I'm calling an upset. With Kelly winning it every year I'd like to see an upset for sure.
Mark Occhilupo: The wildcards that come into this event are usually a pretty big threat, they surf here so much. I always consider the wildcards here the hardest of the year for us tour guys.
This year feels completely different for me to previous years. It kind of feels like when I used to be at the top but that was 10 years ago. I've made a few finals and I won here once and the wave really does suit my kind of surfing. There's a real sense of reflection for me here. I've been getting up really early in the mornings and looking back at the year I've had. I've been thinking that it's been a really good year because I'd really love to finish second; I've never finished that high on the ratings. I've been third twice. So I've been psyching on that. There's also the satisfaction of knowing that I can mix it with the best. When you haven't been there for a few years you don't know. I used to be one of the best but just to come back and end up in the top five and know you are one of the best again is really satisfying.
Kalani Robb
: I'm enjoying every moment. I was shaky at first. I tried to take off a little bit deeper than I wanted to. As I moved closer to where I wanted to be I was still deep but wide enough that I could make the barrels.