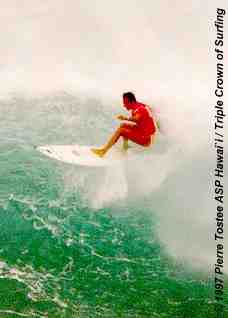 Sunset Beach, HI (December 3, 1997)--Australia's Layne Beachley surfed into the winner's circle for the first time this year, in the $12,500 Quiksilver Roxy Pro World Qualifying Series (WQS) competition at Sunset Beach Today.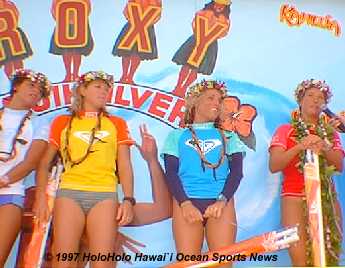 Beachley won $3,500. In second place was Serena Brooke, Australia, who got $1,800. Third was Trudy Todd, $1,600 and fourth place was Hawaii's Megan Abubo, $1,000.
Beachley, who was second in last month's OP Pro women's division and is defending champion for the Quiksilver Roxy Pro, gained more points toward the inaugural Women's Triple Crown of Surfing Championship presented by Kahlua and is currently in first place for that title.
Today's competition was the final WQS of the year and precedes the finale to the Women's World Championship Tour (WCT) scheduled for tomorrow, surf permitting. That's when the women's Triple Crown title will be determined also. Both the WCT and Triple Crown title are presented by Kahlua.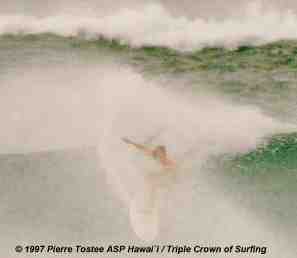 It was a day that featured gale force winds that blew the tops -- and sometimes the surfers -- off the waves.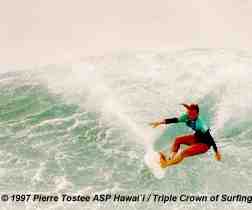 and for the smaller women, finding a good ride among the peaks that broke all over the ocean, staying on a wave against gale force offshore winds and finally, taking the drop and not getting pounded on the reef, was a full days work crammed in to a 25 minute heat.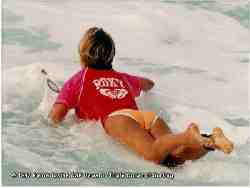 "Paddling out at the start of the heat all I had in my head were the words of a song: 'I get knocked down, but I get up again, you're never going to keep me down,'" Beachley said. "This is my first win for the year, finally. Finally I proved to myself that I can win and it's all the more special that I won at Sunset, being my favorite spot on the world tour. It's a good confidence boost for tomorrow's World Championship Tour event.

"I just hope the waves stick around and maybe the winds can drop off a little," Beachley said. "I'm looking forward to getting into it after a good night's rest. I just want to get a massage, have a couple of shots of Kahlua, a good meal and a good night's sleep so I'm ready to do it all over again tomorrow."
Beachley, along with all the other women, had her share of wipeouts. In the final she took off and was blinded by the spray. She made a bottom turn until she felt the wave suck up, then trimmed and came up too high.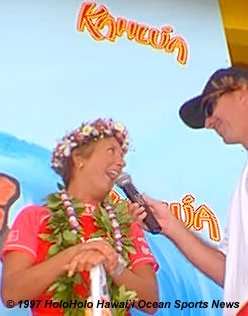 "People on the beach thought I was trying to do a floater," Beachley said. "But all I was trying to do was come up high and drive out of it again. But I came up too high and the lip picked me up and pitched me over with it. I got back-slammed and thrown around like a rag doll under the water for about 20 seconds. I lost an earring, which I'm pretty disappointed about.
"I feel confident of winning the Triple Crown but anything can and does happen so I'm not going to put extra pressure on myself or extra thought into winning," said Beachley. "I just want to do what I did today and take it heat by heat and wave by wave and just concentrate on the job at hand.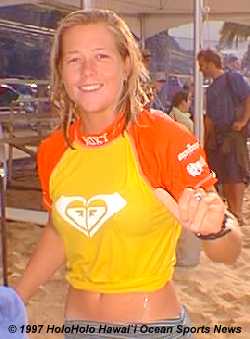 Focus and concentration was what Brooke's heat was all about" "I was concentrating on every wave and taking it heat by heat, trying to make every drop and get the ones that weren't closing out." Brooke said. "I had make it to the final and get third to remain in the women's Top 11 on the WCT tour.
"I tried to not put too much pressure on myself. I was thinking that if I don't make it then it was meant to be and if I do, I'm stoked," Brooke said. "Sometimes I go a bit better when I'm under pressure because I push myself more. Sometimes I get a bit lazy.
"In my first heat I wiped out and did like a starfish and splatted. I couldn't penetrate the water, so I hurt my neck on that wave and then in the final I tried to get a barrel and I hit my head on my board and hurt it again, but it's worth it," Brooke said.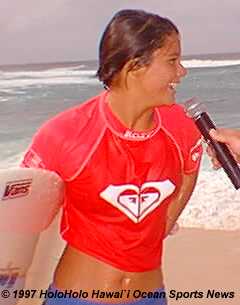 "I wanted to beat Layne in the Triple Crown. I wanted to go out there and just get some good waves," Abubo said. "I started off pretty good, I had a couple of good rides but then I hurt myself in the first 15 minutes and after that I was frazzled. I didn't even want to keep paddling. I was really shaken up a lot. I went over the falls and my whole neck cracked and I just went along the bottom for a little while and finally came up.
"Right after it happened it didn't hurt that much, but as the heat went on I started getting sorer and I got a little bit more worked," Abubo said. "In the last 20 minutes I don't think I even got a wave. This is my second final in the Triple Crown so far and that's why I was hoping that I could hang in there with Layne. Everyone surfed really well, especially with the waves being so big. I was glad just to be able to improve my surfing skills in big waves."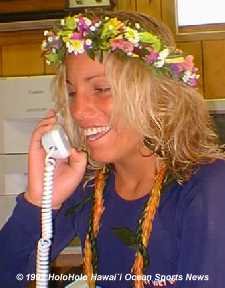 I didn't think that much of my final," Todd said. "I got smashed, my rhythm wasn't right, there were no barrels for me and I sort of knew how much the results mattered for some of the other girls out there so I stayed out of the way, hung back. Then I thought, 'what am I doing?' I should have gone in there and charged. I gave right of way to other people in my heat. I didn't do it deliberately but I just didn't want to be the witch of the show if I got third and Serena got fourth or something and was knocked out of the Top 11.
Hawaii's Rochelle Ballard finished first in the WQS ratings with 10,200 points. Australia's Pam Burridge was second with 10,071.The women's Quiksilver Roxy Pro WCT finals are tomorrow, surf permitting.


For more information:
Carol Hogan or Jodi Holmes
Lava.Net/Honolulu Cellular - Sunset Beach Media Center
808-638-5533 Fax: 808-638-5008
Check out the official Triple Crown website at:
http://holoholo.org/triplecrown/