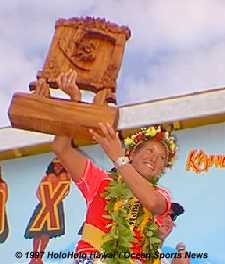 Sunset Beach, HI (December 4, 1997)--Australian Layne Beachley, the second highest rated female surfer in the world, finished her year on a high note winning yesterday's Quiksilver Roxy Pro World Qualifying Series (WQS) event and then today adding to that accomplishment by winning the elite Quiksilver Roxy Pro, a World Championship Tour (WCT) event presented by Kahlua.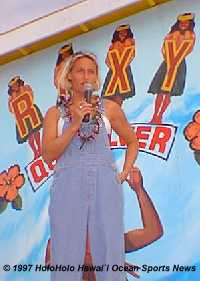 Last September, Florida's Lisa Andersen wrapped up her fourth consecutive world title when she won the Expo 98 Figueira 97 women's competition in Portugal. Today she didn't make it through her quarter final heat against Lynette MacKenzie (Aust) and Maria Tita Tavares, (Brazil).
Beachley received a check for $6,000 and added $7,500 to that when she was named the first Women's Triple Crown of Surfing Champion presented by Kahlua. She earned the title by accumulating 2,860 points over three women's events from the Hawaiian Pro to today's finale. In 1996 Beachley won the two women's Hawaiian events.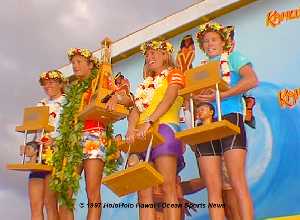 Also making it to the final and finishing second was MacKenzie, Aust, ($3,000), Hawaii's Rochelle Ballard was third, ($2,100) and Kim Wooldridge was fourth, ($1,900). Wooldridge made it into the contest when 4th rated Neridah Falconer was injured in an earlier contest.


"It's hard to believe," said Beachley. "It's an amazing feeling and a feeling of relief that the season's finally over, that I finished second in the world, that I won the Triple Crown - which is something I set my sights on before I came here. It's always a pleasure to create history. I'm just glad that I had the opportunity to do it and I did it.
"I'm really happy that I finished the tour the way I did and I'm looking forward to next year even more now," said Beachley. "A couple of years ago Randy Rarick told me that the reason why Pauline Menczer always did so well at Sunset was because she surfed it a lot and I figured that if I surfed it every day I could out-do anyone here. It's my favorite wave in the world so I don't have a problem going out there no matter what the conditions are. By surfing it every day and getting in tune with what can come at you out there, it puts you at an obvious advantage, so that's what I did," said Beachley. "I'm staying in Hawai`i until February to start training and getting fit and focused on (hopefully) winning a world title eventually. That's my ultimate goal and that's something I've worked towards for the past five years."
Until today the best MacKenzie had ever placed in Hawai`i was fourth in a 1994 final. Today she was happy to move up two places. "It was a good way to end a pretty bad year," said MacKenzie, rated 8th in the world. "I was just happy enough to make the final let alone get second out there. I had a lot of fun. Just three other girls out at Sunset is an opportunity you never get. I don't surf when 50 or 60 guys are out here. I'd rather just surf in the contest and get my waves that way. When I was at home I spent a lot of time riding my bigger Hawai`i boards to get into the feel of it and a lot of time simply paddling from the north end to the south end of Maroubra Beach, because the paddling here in Hawai`i is a killer. I could tell that Layne was way out in the front . You can't beat Miss Sunset out at Sunset, so second was just as good."
"It feels good to finally get a final at Sunset under my belt, just to take that pressure off," said Ballard. " I'm really looking forward to next year, but before next year happens I'm really glad that this year's over and it will be nice to have a little bit of a break at home. This year's been a great run for me, I've had some good results, some good wins, and I feel I just need to touch up on my consistency and I'll be able to put in a good bid for the world title."
"I actually went into the beginning of the year not wanting to participate in the Qualifying Series events, but I got a case of the jitters and thought I'd better back myself up. It's a good thing did," said Ballard, who yesterday was named the first women's World Qualifying Series champion. Her decision was a good one as her win requalified her for the Top 11. "It's nice to have those (WQS) contests just to keep yourself going, rather than having dry spells between the WCT contests and only be surfing those and be under pressure all the time."
"At Sunset today I just stopped putting pressure on myself out there. The last two contests I put too much pressure on myself and just didn't really perform at my best. I didn't give myself a chance to perform, really. I was so worried about losing that I wasn't focusing on positioning and catching waves and actually surfing. Today I just got out there and got myself into position to get some decent waves and placed myself in the final."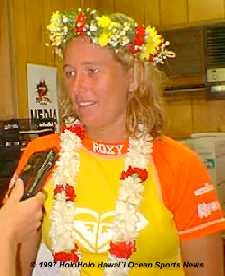 Wooldridge knew Neridah had an injured back so she called her up and asked her if she wanted to surf or not. Falconer was still hurt Wooldridge replaced her in quarter final two: "I just wanted to make up for what I did last week, missing out on making the cut for the World Championship Tour next year, so I wanted to pick myself back up and get back to being on a high. But I'd swap it for a place in the Top 11, if I could," Wooldridge said. "To make the final of a WCT at Sunset is a personal best result for me. Next year's a bit up in the air at the moment because I haven't got the money to take on the whole tour again, but that's what I'd like to do and I'll be going for it."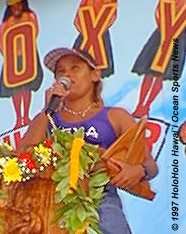 Brazilian bombshell Maria Tita Tavares, gained a berth in today's first quarter final by virtue of her position on the Triple Crown ratings. Today Tavares received another honor by being named Wahine Rookie of the Triple Crown of Surfing. She received a handsome koa trophy.
Today's recipients of the Mitchell Surfing Foundation awards, for the highest losing scores of the quarter finals and semi finals, went to Australians Pam Burridge (quarter finals) and Pauline Menczer, semi finals.


For more information:
Carol Hogan or Jodi Holmes
Lava.Net/Honolulu Cellular - Sunset Beach Media Center
808-638-5533 Fax: 808-638-5008
Check out the official Triple Crown website at:
http://holoholo.org/triplecrown/