Pegasus bio-page ~ HomePage

Here comes Pegasus!


Pegasus makes the final turn to port, with the leis a'waitin....

This boat is one fast-lookin buggah, eh?
and check out The Legend

WHOA! - check this out - talk about 'getting leid' !!
These Kaneohe YC people really like to do it up BIG, eh?
They did the same thing for Abracadabra's Blessing a few weeks back

nothing like grabbin the tiger by the tail....
tho this thing is kinda like wrestling a python, huh?

OK, now it's getting serious - MAKE WAY FOR THE MAI TAIS!!
and we know from last year's PacCup BayWolf Greeting,
that KYC does these Really Well

Hey! - keep it under control huh?
we know yer thirsty, but give em a chance, will ya!
and where's the Skipper?

whew! just-in-time shipments ARE the way to go for this crew

Ten-HUT! - Da Skip is now in-frame
PreZent-ARMS! (or yer empties for refills, anyway ;) Team Pegasus

the formalities concluded and all - H E Double L - breaks loose ashore!

Looks like all-whatevah has just broke-loose over here too.
ain't all these lektronic toys fu'un?.....
just as long as you don't git yer wires crossed, anyway
Right Bets? - but I _know_ you guys can figger this stuff out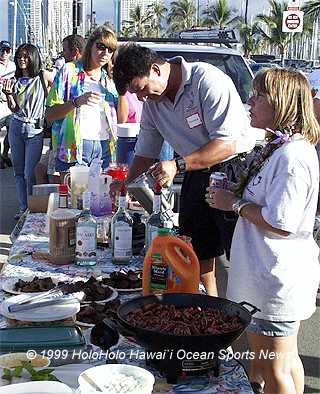 OK - so!... looks like we got another contender
for the Host-test with the Most-Test going here...
KYC showing up with a blender AND a genset to run it, even!

one of these daze, hopefully soon -
sombody will email me with all these people's names - right?

Uh OH!! - watch it! - L.J.'s got a GUN!!!
oh.... hey! - that's one of them thar Iridium Satellite-Phones, isn't it, L.J. ??
I'd still be careful tho - it might (or we might?) be loaded... ;)

and there's Good ole Rob again - this month's Lat38 oughta be a beaut, eh?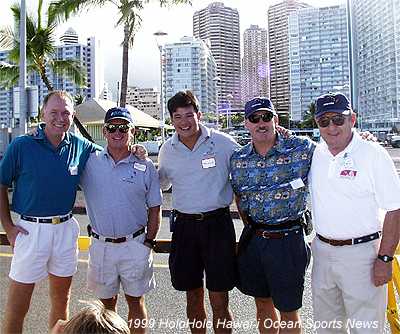 and - hey!... yet another "hand grenade" shot!
from left we got: Kaneohe YC Commodore Bill Riddle, with 2 of his Fast Foward crew?
Then TPYC Commodore L.J. Edgecomb, then Honolulu Cmmt Chmn Bob Towle

was quite a night, morning-after #1 here today, folks...
The Scene - TransPac Row on the morning of July 11th, 1999
at this point, with just 5 Sleds in port...
tho with Pyewacket sitting in the same spot, it almost looks like it did in 1997
but it's now 1300 HST, which means that Grand Illusion is due in any time now....