The Cheval Crew

Linda Elias is first one up for the interview with Channel Sea TV
Linda didn't quite make it for the prev race, but did show for the Baywolf Arrival Party in 97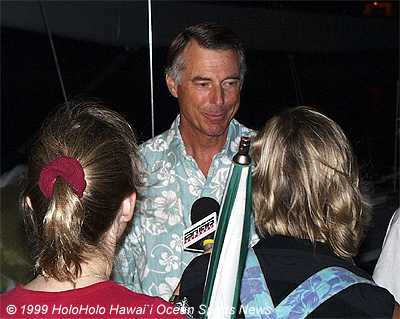 Leslie & Betsy interviewing Cheval's skipper/owner,
Los Angeles YC's Steve Popovich

Madi aka Maddog McJones, Justin & Jessica there in the middle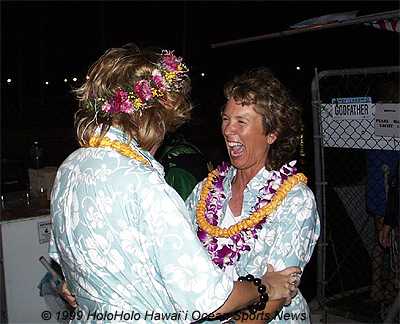 Maddog geets Linda - nice haku lei ya got on there, Madi
too bad eye didn't stop you 2 for a pose, eh?.. oh well, 2001 is comin

Email Me with all the names, huh?

Bets gets the inside scoop from Justin, with Jessica coaching...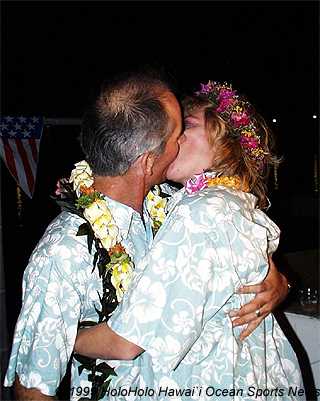 WHOA!.. Maddog goes for the gold.. or was it the tongue? ;)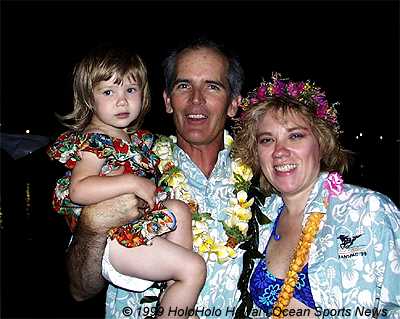 The McJones tribe - Jessica, Justin and Madeline (Maddog to us webgeeks)

Linda, Leslie "Channel Sea TV" Demuse and da Skippah

maddy, happy & grumpy here.....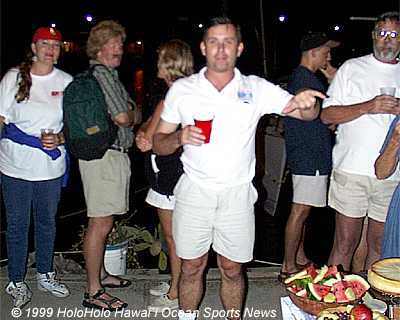 uh oh.... somebody even managed to snag The Paparazzi on this one
Waikiki YC's Capn Kent Howard there on the right with Hawaii YC's
Mary Liz Riley in the background there standing next to Rob Moore and
Betsy Crowfoot - pretty impressive collection of media types here for this one, eh? ;)
never did get a shot of 'the spread' on this one, hosted by Pearl Harbor YC
what ever happened to their website, anyway?

Jessica there doing a "like mother, like daughter" scene here
it won't be long now, Madi - before "the basketball" is guzzling the Mai Tais
and YOU are snappin the pix of HER crew, eh?

one more "on the bow, after gittin lei'd and mai tai'd" shot
this one was a bit on the fuzzy side, but Photoshop 'sharpen more' to the rescue
The Cheval Crew Finishing 2nd in Division 2
in TransPacific Yacht Club's Honolulu Race aka TransPac 99