Keith points out just exactly where their names will be.. like...
for-evah displayed and thinkin, no doubt - that it's not him who's DFL anymore ;)
hey!.... who planned this party anyway? - great job!
the sunset coloring even matches the leis....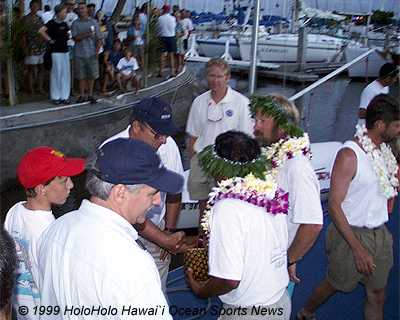 TPYC Honolulu Cmmt Chmn, Kaneohe YC's Bob Towle does the congratulatin
while TPYC Commodore L.J. Edgecomb supervises...

Hurricane's Kim Stebbins comes up to "pay his respects"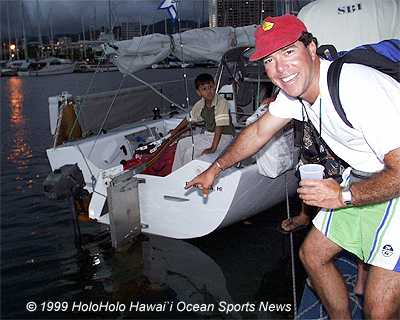 one of the Gone With The Wind guys points to an 'added feature' on the rudder of Vapor

hey!... didn't somebody tell them guys that ya 'spose to put the Ti leaves on the bow???
kinda looks like we just found another reason why they were so late, eh?

Rich Roberts - TPYC Media Guy, gets The Story
overheard something about the new nicname for Vapor is "NightFright"
understandable, after blasting along with a broken rudder - pushin 20 kts, in the dark, eh?

Hey!!... wait a minute - we got another lei for ya....

well... so it doesn't have the prettiest smelling flowers...
but you did bring it all the way from Catalina, so putt'er on!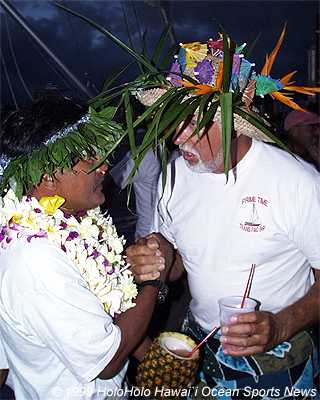 somebody here from Primetime giving very warm & heartfelt congratulations/appreciation
either that or he was letting him know just how many Mai Tais we been drinkin
while waitin on ya - which way's the line fer liver transplants? ;)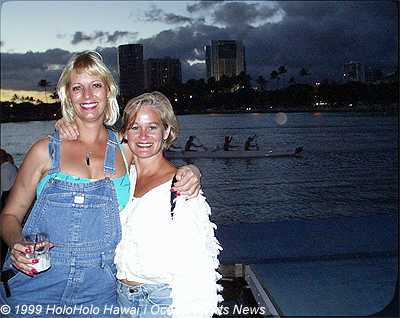 OK - now we know FER SHUR that this is an Official YC Event
it's 2 members of the WYC Blonde Squad looking good-to-go as always,
while a Waikiki YC Canoe Team crew paddles home behind em...

Les Vasconcellos - demonstrating here just how exciting it can be
to go from 1 of Two Guys on The Edge to One Guy tween 2 Blondes
....and you thot things were moving fast on the boat, eh Les?...

well... if this spread of pix (topping out at just about 500) ain't enuf?
I'm sure John Davis / Island Photo Magic (on left) - aka Official TPYC Photogroper
can hook y'all up with anything you'll be looking for...
and make sure to Email Bob Towle if you have any KYC Party Pix,
so we can upload em along with the HYC Party Pix & WYC Party Pix