Page Viewing Guidelines
You may also need to clear your cache.
OR press "reload"

TRANSPAC 97 NAV STATION
Set your GPS for: Lat: 21.17'.17" N x Lon: 157.50'.31" W
Presented "Unofficially" by
WYC Web Crew

TransPac 99 Crew List

Early entries confirm expectations for '99 race
Hugh Lamson's TransPac Cruising Class a Hit!
Half of 70 requests for race info from cruisers
ESPRIT and UPROARIOUS are entered
Fred Frye Cruising Class Chairman

-----------------------

Check out the Official Kenwood Transpac Website Too
TransPac 1997
A quick overview
Last updated 1959 Hst (7/20)
Aloha & Greetings From Transpac Row
Today (Friday): The TPYC Trophy Dinner
LIVE?... well... not quite ;)
BUT... the first of the awards pages are UP

Stay Tuned Now for The 1997 Plywood Cup Challenge
Tons'O'Pix to follow !!

Check Out The Scene at Transpac Row

At The Finish Line: All 31 In
For Tail-End Charlie it's Silver Girl
Finishing at 05:38:10 Thu 7/17
Have a look at the Finish Log

Monday 7/14: NetCasting Live the arrival of
Pegasus XIV with Transpac Womens Challenge Team
Sunday 7/13: NetCasting *LIVE* From The Finish Line

Explorer Blows Away Multihull Record!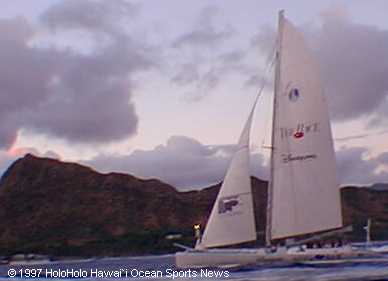 Commodore Explorer at Diamond Head Light (Sat 7/12) at 19:18 Hst
In record 5:09:18:26
More Pix and The Story from Transpac Row in just a bit....
Keep an eye on the Explorer Transpac Site for more
---
Medicine Man In FIRST, Takes Record!
Medicine Man crossing the line July 10th at 1631 hst with a
record time of 8:06:31:00


More Pix and The Story from Race HQ in just a bit....


Check out the finish photos and story by Jack Wyatt for the
Honolulu Star Bulletin 7/12

And YES - it was a " horse race " out there!.....
---
The News
select: Latest News for most recent updates
*NEWS FLASH: TWYC Announces Wagering Results (7/16)
* News Flash: Pyewacket Gets The Barn Door! (7/13)
**News Flash: Bay Wolf Arrived at 0518 hst TODAY!
See Latest Pix *LIVE* from Transpac Row (7/12)

The Wizard offering Reward For Original of Photo of Merlin !
And check out: Tales From The Wizard - Great Reads !

Ray Pendlelton's "Waterways" column:
Medicine Man wins Barn Door - True or False? (7/12)

*NEWS FLASH: (7/10) Day run record broken 2nd time this week by VICTORIA - 337 miles in 24 hours!

A look at how the First Transpac came to be, by Carol Hogan

Better get out the Record Book(7/8): Fast IS Fun !!

*News Flash: (7/8) Double Bullet Down & Out! - snaps mast, heads back

*NEWS FLASH:(7/7) The Zeph down & Out, Vicky heading back too ! Luna Barba FLYIN !!

*News Flash: (7/7) EXPLORER Makes It ! will start today

*NEWS FLASH: (7/6) Magnitude Dismasted 100 mi from LB !

Ray Pendlelton's "Waterways" column:
Sleds, Survivor, wahine entries 7/5

*News Flash: (7/5) Sleds/Turbos off to a slooow start - Pix !

*News Flash (7/4) WYC's 2 Guys On The Edge
Turn back to L Beach ... Full Story 7/4

News & Views from the TWC and 2 Guys at the start of Div IV

Transpac Womens Challenge Crew Website

Then check out Jocelyn & Kirk Wilson's Baywolf Den...
Baywolf is skippered by Betty Sue Sherman, of theWomen's Sailing Team, another of the 2 all-wahine crews of Transpac'97.

---

Some other Special Features:

The 1997 Plywood Cup Challenge - We DARE Ya!!

Excerpts from The Rainbow Quest: Anuenue in Transpac '69

Stay Tuned for
Lektrode's Transpac 95 Awards Photo Album....
since he needs all the help he can get in ID'ing whos's who

---

And Time grows short to Bet Your Boats
Lines CLOSE at NOON PDT Sat July 5th for Sleds/Turbos; Mon July 7th for Multihulls

What things looked like for
TransPac 95



This site will be linking to all available online resources for Transpac '97 and if anyone out there knows of anything we've missed - LET US KNOW

So Keep Checking in Here -
the site will be added to DAILY thru July 20
Last modified: Friday - 19990115.11:58 HST
Copyright © 1997, HoloHolo Internet Publishing, all rights reserved